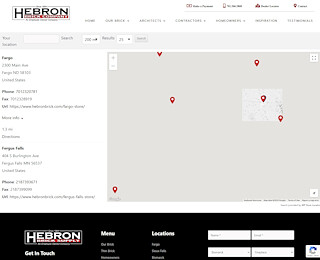 Hebron Landscaping offers a wide range of useful landscaping service in the following locations:
Minot
Bismarck
Grand Forks
Fargo
Fergus Falls
Rapid City
Sioux Falls
If you live in or close to any of these locations, our expert landscaping services may be of benefit for you. You can find a trusted Hebron Landscaping store closest to you on the Store Finder page of our website, or you can Google "Hebron Landscaping Near Me."

We are Your All-in Landscaping Services Provider
From design to construction, Hebron Landscaping does it all! For example, when our neighbors need help bringing their landscaping design to life, they know they can count on our expertise to turn their vision into reality. Not only can we help you design an aesthetically beautiful, energy and environmentally-friendly landscaping design, but we can even supply you with all the materials, tools, resources, and manpower you need to get the job done to consolidate your services if you wish to do so.
Hebron Landscaping is Ideal for Any Landscaping Job
Hebron Supply is a popular landscaping services provider because we're small enough to take on the smaller jobs that many large landscaping companies won't quote, but we're also large enough and connected enough that we can easily handle bigger jobs like government buildings, commercial buildings, institutions, and other large landscaping jobs. No matter the design, no matter the location, and no matter the cost, Hebron Landscaping has you covered. Just give us a call, and we'll be glad to discuss your project at no cost to you.
When it comes to landscaping design, build, and installation, our neighbors know that they can count on us to get the best work done at the lowest cost possible. Hebron Landscaping never overcharges, oversells, or charges hidden fees. Our pricing, just like all of our work, is fair, honest, and transparent.
We Can Help You Find the Best Trees and Plants and Plant them for You
Although it may seem part and parcel of the trade, not every landscaping company can take care of your planting needs. If you are interested, Hebron Landscaping can familiarize you with your large selection of plants and even help you choose the ones that best compliment your landscaped area, taste, and budget, and of course, we can plant them for you too!
Hebron Landscaping Provides Stellar Support and Landscaping Maintenance Services
We provide ongoing landscape care for our valued clients. This means that we'll be there to maintain and repair your freshly installed landscape for years to come. When bricks crack, when leaves fall, and when your new plants need to be trimmed, you can call us to come back and take care of it for you. Erosion, settling, and weather can sometimes add a natural appeal to your landscape, but other times it detracts from the quality of the landscape's feel and appeal.
Call Hebron and Get the Best of the Best
When you hire Hebron Landscaping for any kind of landscaping services, you know that you are getting the best of the best. We adhere to the best safety practices and quality procedures. Plus, you can trust everyone we send to your home or establishment. All of our employees are carefully vetted and undergo rigorous criminal and character background checks at the time of hire. Our workers are required to be polite, dressed decently, and eager to help. We won't send anyone to your place who we wouldn't trust in ours!